January 21, 2015 By Victoria Law Leave a Comment
This story originally appeared on Waging Nonviolence. 
A group of prisoners' rights activists didn't stop a new isolation unit from being approved on January 13, but they did manage to push through some changes to the proposal, as well as long-overdue limitations to solitary confinement at Rikers Island, New York City's massive island jail complex. In doing so, they went up against the powerful Correctional Officers' Benevolent Association.
The Jails Action Coalition is a grassroots group that has been pushing for an end to all forms of solitary confinement, as well as transparency and accountability in what goes on in New York City jails. Some are people who have spent time in jails and prisons. Others are people who work in these systems, such as lawyers, advocates and social workers. Still, others are family members of incarcerated people. For nearly three years, they've worked to shine light on jail practices that often remain out of the public eye, from publicizing and demanding accountability for preventable deaths on Rikers to helping push recent legislation requiring the Department of Correction, or DOC, to publicly report the number of people in solitary, the length of their stay and whether they were injured or assaulted.
In April 2013, the group petitioned the New York City Board of Correction, which establishes and monitors minimum standards around conditions in the city's jails, to amend its minimum standards for the use of solitary confinement, which is also known as "punitive segregation." The majority of people incarcerated on Rikers cannot afford bail and are awaiting trial. Some are serving sentences of one year or less. The board rejected the petition, but it did commission two reports on the use of solitary in New York City jails.
In September 2013, after both reports condemned solitary at Rikers, the Board of Correction voted to make new rules governing solitary confinement in the city's jail system. But then they didn't make them.
More than a year later, in November 2014, the DOC submitted a proposal to build a $14.8 million Enhanced Supervision Housing unit, or ESHU. According to the DOC, the ESHU would decrease jail violence by segregating up to 250 people who are identified as gang members, committed stabbings or slashings, are found with a scalpel, participate in protests, or engage in "serious and persistent violence." Those placed in the ESHU would be locked into their cells for 17 hours each day. They would have limited access to the law library. Their mail could be read without notifying either them or the sender. They may not be allowed contact visits with family and loved ones. But, in order to move forward with the new unit, the DOC needed the authorization of the Board of Correction.
Activists, including many in the Jails Action Coalition, were horrified. With only one month before the sole public hearing about the unit and two months until the deciding vote, they worked to circulate news about the proposed unit. They urged people to submit written comments to the board opposing the new unit. They urged people to attend and speak at the upcoming hearing. Their outreach was successful. On December 19, 2014, not only had they lined up to attend and signed up to speak at the hearing, but so had many other people who had been incarcerated, worked at, or had loved ones in Rikers. At the same time, however, correctional officers were also mobilized, along with their union, including union president Norman Seabrook, who has gone from being called a "roadblock to reform" to an "enemy of reform" by the New York Times. Uniformed correctional officers took up nearly a quarter of the seating, which prevented people arriving after 9 a.m. from being allowed to enter the auditorium.
The hearing lasted for over six-and-a-half hours with 104 people from both sides signed up to testify, many of whom condemned the proposal. After the hearing, members of the Jails Action Coalition met with the three newest members of the board individually to talk with them about the proposed rule and the effects of solitary confinement.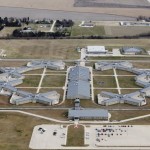 January 20, 2015 By Jean Casella Leave a Comment
Last week, Solitary Watch published an investigation into the new federal prison in Thomson, Illinois, which is in the process of being renovated with an eye toward activation in the next year. Sources show that Thomson is intended to be in effect a supermax prison, with 400 "Administrative Maximum" cells for extreme solitary confinement, and 1500 […]